Thursday, 16 May 2013 05:43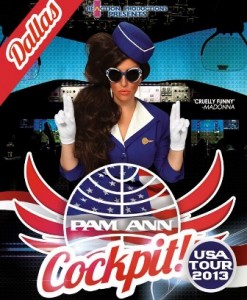 Not to be confused with Pan An the TV show or the airlines that once flew alongside TWA and was the beginning of the modernized…well whatever.. Pam Ann alter-ego of Australian performance artist Caroline Reid comes to Dallas this weekend and is performing at the Majestic Theatre (at 8pm). This is a show that is guaranteed to be adult and not for those under 18 and we love it that way! She is sassy as quoted here "Not since Dame Edna have we seen such a sassy performer"- Elle Magazine.
An established icon in LGBT culture, Reid's brilliance shines as the flight-attendant-from-hell PAM ANN; a wicked mixture of vamp, camp and sky high insanity. Ms Reid takes flights of fancy to new heights with her "air mattress" take off of the legendary airline Pan Am.
Read more: Pam Ann has Layover in Dallas