Wednesday, 5 February 2014 05:24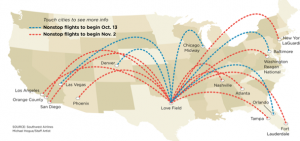 A new day has arrived especially for those of us who live in the Oaklawn area to be closer to an airport that can fly us without much hassle and layovers. Southwest now is known for an airline that has to stop in towns like Midland or Tyler to get to a popular city such as Las Vegas. This will end soon and there may be more air traffic to deal with in the sky and possibly more noise and street traffic but it will be worth it.
Southwest Airlines will fly nonstop to 15 new cities out of Dallas Love Field when the Wright amendment expires on Oct. 13 and airlines will be allowed nonstop service from Dallas to any U.S. airport. Actually, five will be offered from Oct. 13, and the other 10 will be added on Nov. 2. The flights don't go on sale until May when Southwest will post the schedules.
The new nonstop cities include Atlanta, New York LaGuardia, Baltimore, Orange County, Calif.
Chicago Midway, Orlando, Denver, Phoenix, Fort Lauderdale, San Diego, Las Vegas, Tampa, Los Angeles, Washington Reagan National, and Nashville, TN.
Read more: 15 cities to get Southwest's nonstop service out of Dallas Love Field