Tuesday, 13 January 2015 05:11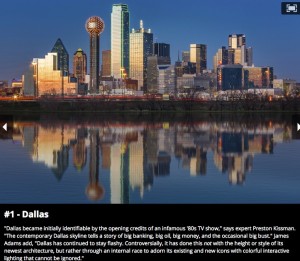 Dallas skyline has been deemed the best in the entire world by USA Today and 10Best. Big D was among 20 nominees for the honor of "Best International Skyline". Other cities included included Chicago, Seattle, Paris, Kuala Lumpur and Rio de Janeiro.
A panel of architects selected the 20 competitive cities and readers were given four weeks to vote. Chicago placed second. Rio de Janeiro third. Toronto and New York rounded out the top five. Dallas got its skyline popularity from the hit series 'Dallas' and in music videos such as Vanilla Ice "Ice Ice Baby". Not saying that Ft. Worth, Houston, and Austin with its beautiful downtown do not compete but Dallas whens over other Texas cities as well. Check out this breathtaking view of the Dallas skyline.
Read more: Dallas Skyline Voted Best International Skyline