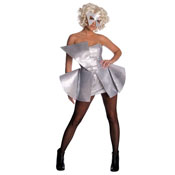 It is that time of year again when everyone is getting ready for the annual Oaklawn Halloween Party, time for planning out those Halloween Costumes and who you will be going with, as well as who is going to be the one to hold the pre-party! This year's Halloween Party has been met with some confusion on the date. In years past the Halloween Party has always been held the Saturday that is the week before. That is not the case this year. The party this year will be on October 30, 2010!
If the block party just isn't enough for you, Caven will be having their annual Costume Contests on Sunday October 31, 2010. They contests will start at 11pm at all 4 of their clubs, then the winners from each of those will all go over to Station 4 at midnight to compete for cash and prizes that are valued at over $5,000!
It will be interesting to see all of the costumes that we will be seeing out this year, I am sure there will be lots of Mad Hatters, Avatars, and of course Lady Gaga's! With over 1 million Lady Gaga costumes sold this year so far, there are going to be more than a few of those in the crowd! With just over 2 weeks left, it is time to start getting all of that in order. What are you going to be this year for halloween?