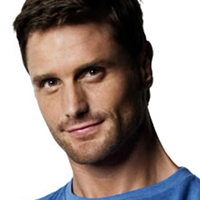 <-PLEASE SHARE! Reichen Lehmkuhl who rose to prominance as being the hottie on the Amazing Race, then moving on to dating Nsync's Lance Bass, and now a star of Logo TV's hit show "The A-list New York" will be appearing at Woody's Dallas on this Friday, November 5th at 10pm. He will be appearing for photos, autographs and to talk about and promote his current TV show. There is no cover at Woody's, and all proceeds will go to benefit Youth First Texas, and there will be several ways at the bar for you to make donations to that great charity.
If you guys haven't tuned into A-List, you are missing some major drama. Think of an extreme gay version of Real Housewives, and you are getting on the right track to a glimpse of this show. Will you guys be attending this event to get your photo taken with Reichen Lehmkul and try to dig up some of the REAL gossip from the A-List New York?
Also, check out some links  below of Reichen's Jewelry line that is sold at LoveandPride.com! 10% of the money from his Jewelry Line goes to the SLDN (Servicemembers Legal Defense Network) which helps to fund the fight to end Don't Ask, Don't Tell.