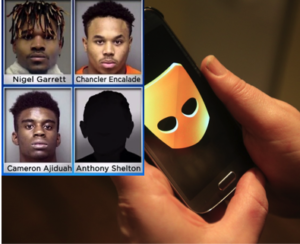 Dallas Police Department made an update on the Grindr app arrest and the department is seeking additional information from anyone who may know other suspects involved.
After further investigation one of the robberies has been reclassified to a sexual assault offense. There are indications that the offenses were motivated on the perceived sexual orientation of the victim and are being considered hate crimes. The investigation into the offenses is still active and on-going.

One individual is currently in custody and detectives are working to identify additional suspects. We will release additional details as they become available and it is appropriate to do so.

Anyone with information related to these offenses is asked to contact Detective Jarc at 214.671.3584 or their local police department immediately.

If you wish to remain anonymous, please contact Crime Stoppers at (214)373-TIPS, 24 hours a day, 7 days a week. Crime Stoppers will pay up to $5,000 for information called into Crime Stoppers that leads to the arrest and indictment for this felony offense and other felony offenses.




Original Post: December 12, 2017

On December 12, 2017, at approximately 12:30 a.m., four victims were lured to a vacant apartment in the 8000 block of Chariot Street and were robbed and beaten. All four victims had used the dating app "Grindr" to communicate with the suspects. Dallas police officers took a 17 year old Latin male into custody after it was discovered he was involved with committing these offenses. The Latin male is currently charged with four counts of Aggravated Robbery and is being held in the Dallas County Jail.




Since December 7, 2017, there have been three other robberies in the same area where victims were lured to the location after responding to posts on the "Grindr" dating app. Below are the dates and locations:

December 7, 2017, ​8000​ Rothington Road ​277622-2017 ​ 1:10 AM
December 7, 2017, ​8000 ​Chariot Drive ​278372-2017​10:30 PM
December 8, 2017, ​8000 ​Chariot Drive ​278417-20117​01:00 AM

These investigations are ongoing and it's undetermined if the suspect arrested today is also responsible for these other offenses. There are also 3-5 Black males who were involved in today's offense and possibly other offenses that remain at large.