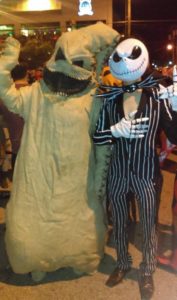 It's our favorite time of year and this year is special as we get a Friday the 13th on top of a fabulous and scary Halloween. Now is the time to start planning your costume for the block party and we have a few discounts you will want to use as this holiday can get expensive. We have an exclusive discount from Lyft for anyone and Electrique Boutique which is one of the best places to shop for costumes to find something that isn't generic. Go here for last years block party photos.
Here are some costume ideas (Discounts below):
http://bit.ly/ScaryClown
http://bit.ly/LEDMasks
Frugal Costume Ideas http://bit.ly/FHalloweenIdeas
http://bit.ly/DinosaurCostume
Sexy Gay Costume Ideas
Saturday, October 28 – Block Party!! A costume catwalk down the middle of Cedar Springs road with food and beer offered at 8 different booths. Live DJ and Rose room drag performers behind JR's and S4. The Roundup will offer the BEST decorated bar on the strip, all hand made by the Round-Up Staff.
Tuesday, October 31 – On Halloween Night Roundup is having a Halloween Costume Contest for Cash for best individual and group. You'll also see costume contest finales at each of the Caven bars on the strip.
Free or Discounted Rides:
LYFT Discounts: Use Promo Code GAYDFW for New users only and get $10 off 1 ride (normal rate is only $5 off).  Can be used anytime, anywhere.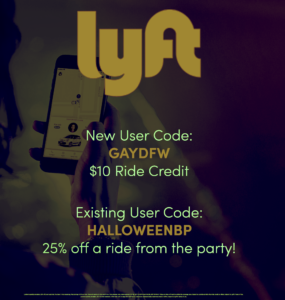 25% off a ride to/from the block party:
Ride Lyft for the Halloween Block Party and get 25% off a ride to/from the block party using promo code HALLOWEENBP. This is for ANYONE including Existing users of Lyft.  Must be picked up or dropped off at block party location and used during times of the Block Party event.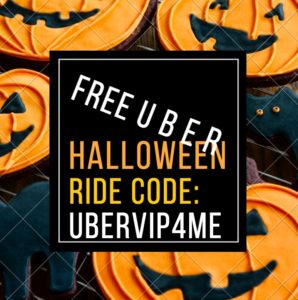 Uber Free Ride: Use Promo Code UBERVIP4ME for One Free $10 Uber Ride. New riders only.
Avoid Surge with A Taxi App:
Create a new Curb account and download the app for the first time.  On the credit card registration page that appears after creating an account, click the "Enter Promo Code" text link. Enter Referral Code o91l92 to receive $10 in Magic Credits added to your account instantly.
Where to Stay?
We recommend home sharing services such as AirBnb and MisterBnb over hotels for staying in the Oaklawn area. You can find discounts below:
$25 in AirBnB Travel credits – you can find many villas, homes or apartments close to the Oaklawn gayborhood strip with AirBnb. 
$25 Misterbnb Credit – Similar to AirBnb but it's gay hostess by the mostess. Go here for a $25 Misterbnb credit on your first stay.
These are a great way to meet new people and stay in the gayborhood and live like a local while in town for the block party weekend. If you insist on a hotel stay then we have listed some of our favorites in the area below:
Use our code here for $40 off your 1st purchase of $300 or more on Hotels.com.
Warwick Melrose Hotel
"Elegant accommodations" and as close as you will get to the parade. If you do not book this one early you will miss out on a room. This hotel is next to Cafe Brazil and walking distance to Station 4 and the Roundup. Perfectly situated along the parade routes peak area at 3015 Oak Lawn Ave.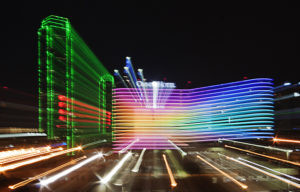 Omni Dallas Hotel
This luxe high-rise hotel is 0.4 miles from historic Dealey Plaza and 1.3 miles from the Dallas Museum of Art and Nasher Sculpture Center. Located at 555 S Lamar Street in downtown this hotel is a mainstay of colored LED's including gay pride support.
Haunted House Coupons:
Get Your 2017 Thrillvania Haunted House Park Coupon at thrillvania.com/coupons/.
EXCLUSIVE Costume Shopping Discounts: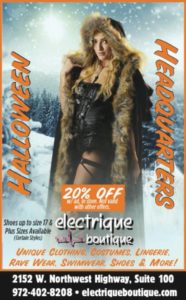 Electrique Boutique is one of our favorite places to find fun and sexy outfits. We have a discount flyer you can print out and use there. Just click the flyer to the right and show them when you checkout for 20% off one of their sexy costumes.
 See more Halloween Ideas for Parties and Costumes
here
.