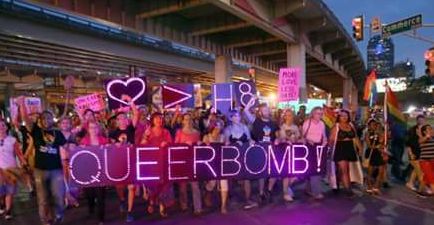 Many people ask the question each year why the Dallas Pride & Parade down the streets of Cedar Springs is held in September instead of National Gay Pride Month. While many are enthused that it's held while the Texas heat starts to cool off some want to march and celebrate in June. There is also the complaints that Gay Pride across the country has become too corporate and many are changing their parades into more of a resistance movement. This may be the answer for those who want to get out and feel an alternative pride event.
QueerBomb is Dallas's only public celebration of National Pride Weekend and it's free to attend, open to all ages and brought to you each year without any corporate sponsors or influence. The event held in Deep Ellum celebrates LGBT liberation day. Hundreds of people will join together for the 4th year of the event at a pride rally.
Saturday, June 24, 2017 starting at 5 p.m. there will be speakers and music at the rally in Deep Ellum lasting until 2 a.m. Sunday.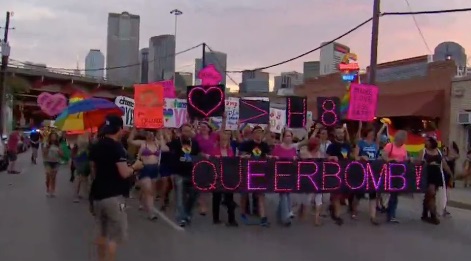 Schedule for QueerBomb Dallas:
5pm: Gates Open. Countdown to impact with live entertainment on the RBC Main Stage and the Pride Tea Dance in the QueerBomb Rally yard. Local organizations and artists host booths. 21+ to drink.
6pm: Count Down to QueerBomb! Featuring Lady BSmoove, Gayle Bell, Rod Gray and a live set by Mercury Rocket
8pm Pride Rally where the Speakers ring in the spirit of LGBTQ pride.
9pm Queer Dance: "The QueerBomb Rally Yard is transformed into the largest, hottest public queer dance party in Dallas history." Free your queer spirit under the Texas sky with DJ Wiley, Night Nurse, Shams and more. Inside, enjoy live entertainment all night long on the RBC Main Stage.
After this year's march through Deep Ellum join Raquel Blake at 10pm on the RBC Main Stage for the BombShell Drag Spectacular. Special Guests: Fantasha Suggs, Nicole O'Hara Munro, BLEACH, Kandy Cayne and more. Then stick around for a special midnight performance by Starfruit.
The event is free so they have set up a Gofundme page where they have raised $2,528 of the $3,000 goal. One of the contributors commented:
Queerbomb Dallas is a wonderfully diverse event that embraces all the best elements of our community. We strive to give a voice to all the marginalized people within the queer spectrum. We raise awareness of issues while having fun. This will be my fourth year as a donor, my third year as a participant and my second year as a organizer. Queerbomb Dallas is truly one of the best organizations I have ever worked with. in the past four years.