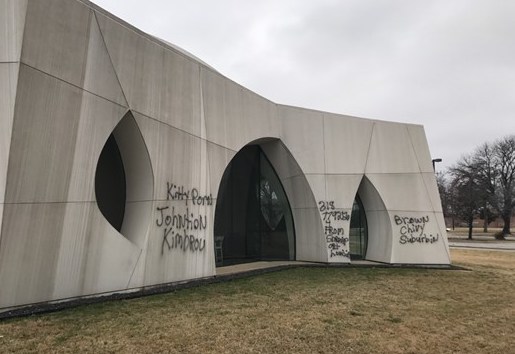 The Interfaith Peace Chapel at Dallas' Cathedral of Hope was vandalized overnight.
Police are currently investigating the graffiti which says "kitty porn" and includes a person's name, phone number, and the make of a vehicle. It which contains numerous misspellings such as a reference to a brown "Chivy Suburbin" and a northern-Louisiana phone number which does not appear to be in service. The name spelled out in graffiti was Jonathan kimbrow but the Rev. Dr. Neil Cazares-Thomas seemed to be unaware of what all of this was in reference to.
This could be a personal vendetta against someone, but they are not sure why someone would have chosen the chapel to do this act of vandalism. Maybe because it's off a main road. They are not sure if it is some kind of hate crime at this point but it does not appear to be.
Surveillance video is being reviewed by police, although chapel officials said they haven't found anything suspicious on it yet. If anyone has any information please contact Dallas Police.
The Interfaith Peace Chapel's website states it was designed by world-renowned and award-winning architect Philip Johnson. "It is a brilliant, inspirational design of "sculpture as architecture. Seating up to 175 people, the chapel provides ideal space for intimate worship services, commitment ceremonies and memorial services. This sacred space makes a bold and highly visible statement to the world about our commitment to the vision God has placed upon our hearts. We believe wholeheartedly that God will transform millions of lives through this building!"