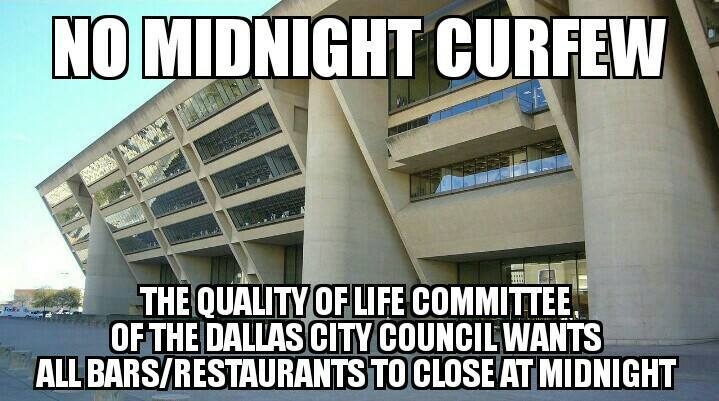 Dallas City Council has asked city staff to explore two possible amendments to local ordinances.
OUTDOOR PATIOS
One amendment supported by some City Hall officials would force all bars, restaurants and retail establishments with uncovered patios to provide parking spaces for all the patio patrons they serve. This has started a #Savethepatio movement in Dallas.
BUSINESS 'CURFEWS'
Another amendment supported by some City Hall officials would force all bars city-wide to obtain special permits just to stay open past midnight
Just when you think things cannot get worse in 2016, we tried to tell you #itgetsbetter but we'd be lying. In a year that shocked us all with a President-Elect Trump that everyone said would not happen now we are wondering if bars will be able to stay open past midnight thanks to some nazis in the the "Quality of Life Committee" the group responsible for bringing these ideas before the Dallas City Council.
The Quality of Life Committee were behind the ham-fisted ban on mobile retailers, opting to toss out a city staff suggestion to create new permitting processes for roll-around retail that potentially activate neighborhoods in strategic ways. Instead, the committee wanted to ban them altogether.
The Quality of Life Committee nearly banned the little free libraries that communities love. Luckily, council member Scott Griggs stepped in to save the poor, little libraries.
The Quality of Life Committee banned smoking in city parks. Regardless of how you feel about smoking and the extent to which governments should regulate behavior in public spaces, why, as the Dallas Observer wondered, pass a draconian measure that may not even be enforceable?

On November 29, they are set to consider expanding parking requirements to outdoor seating areas. Currently city code does not consider outdoor seating and patios at bars and restaurants as part of the floor area used to calculate how much parking businesses need to provide to operate. In recent years, as a briefing prepared by city staff points out, there have been more establishments opening in Dallas with large outdoor seating areas, places like Truck Yard and The Foundry. Staff recognizes, using some Orwellian language, that outdoor seating is a good thing — it "enhances pedestrian street life when located on or adjacent to the sidewalk" and "may encourage more social interaction between individuals and may help enhance a since of community" (sic). But then staff suggests looping the square footage into city code's parking requirement calculation, meaning places like Truck Yard would have to find a lot more parking on Lower Greenville in order to keep their doors open.
(D Magazine)
The Save the Patio group's answer to keeping Dallas' most exciting neighborhoods safe and respectful to nearby residents is City Hall enforcing the parking, noise and vagrancy laws that are currently on the books. They plan on showing up to this meeting to show that the answer is NOT our government officials enacting more rules that will either bring more cars into those neighborhoods or cause more bars to close down at midnight and more patios to close altogether.
JOIN US ON NOV. 29
Don't let your favorite neighborhood (or business) go dark. Show up and speak up at 6 p.m. on Tues., Nov. 29, at the J. Erik Jonsson Central Library Auditorium, 1515 Young St., Dallas.
Parking is available in the library parking garage for a fee (enter off of Wood Street) or at metered parking on Young Street.

More information:
1. Dallas City Council presentation on changing parking requirements for "outdoor entertainment areas": http://x.co/parkpatio
2. Dallas City Council presentation on a "late hours overlay": http://x.co/latehours
3. Like Save the Patio on Facebook: Facebook.com/savethepatio/
The patio movement hopes to soon have a website with an easy form you can use to contact your Dallas City Council representative at savethepatio.org. Although they have not yet put this contact info up.
Let's hope action is taken so these do not pass. A bar closing down at midnight or even a restaurant or a nightclub is outrageous. That is something you see in a small town not a big city such as Dallas. We should take it a step further and allow bars to serve alcohol and be open for dancing as long as the people want.
Note that the Dallas City Hall has a proposal that lists these other city ordinances as examples for their version of "Quality":
– San Jose, California
• Late night establishments in commercial districts require
conditional use permit.
• 20.40.500 – Late night use and activity.
– No establishment other than office uses, in any commercial
district shall be open between the hours of 12:00 midnight and
6:00 a.m. except pursuant to and in compliance with a
conditional use permit as provided in Chapter 20.100.
– No outdoor activity, including loading, sweeping, landscaping
or maintenance shall occur within one-hundred fifty feet of any
residentially zoned property between the hours of 12:00
midnight and 6:00 a.m. except pursuant to and in compliance
with a conditional use permit as provided in Chapter 20.100.
Fort Worth, Texas
• Some Planned Development Districts restrict hours of
operation of certain uses.
San Antonio, Texas
• Massage businesses (8:00a.m. – 10:00p.m.), and billiard
halls(7:00a.m. – 2:00a.m.).
Austin, Texas
• In one specific district, the Neighborhood Commercial
District, hours of operation are limited to no later than 11:00
p.m. for a restaurant