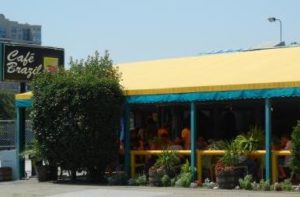 Café Brazil on Cedar Springs Road is closing down after 17 years at it's current location in Oaklawn. The good news is that it's relocating to a new address that will double its size, add more parking, and feature a patio facing Cedar Springs. This will be just a few doors down from it's current spot to where Liquid Zoo and Mickey's were located at 3851 Cedar Springs Rd.
The Warwick Melrose Hotel known for being the only strip hotel and one that has lots of wedding events will be taking over the land for the former Cafe spot turning it into a parking lot and possibly a swimming pool.
Cafe Brazil will continue at its current location until the new location is ready. This should be before the end of the year with construction beginning this month. The new location is approximately 3,400 square feet, compared to its current 1,600 square feet.
We are still recovering from the closing of the Black Eyed Pea and sure hope this move goes without any problems.