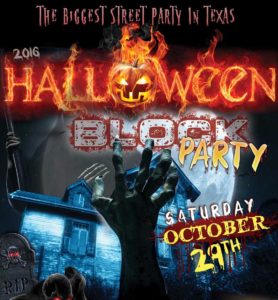 Dallas has one of the best block parties known to man during October each year. Join us as we list the block party events and some of the other events that are in town during the groovy month of October.
Zombie Walk – Friday, October 21st
Station 4, JR's, Sue Ellen's and TMC all host the Zombie Walk the week before Halloween.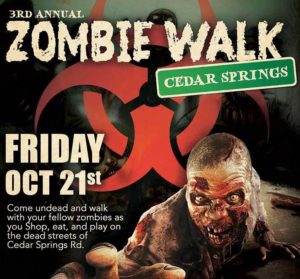 Halloween Block Party – Saturday, October 29th
The entire block at Cedar Springs and Throckmorton (few blocks from Oaklawn) is closed off for the party from 8pm to around 1am then everyone goes inside the clubs to party.
Yanis Marshall Halloween Dance Party Dallas, TX Friday 10/28/16
Yanis is fully booked for 2016 and, we are thrilled to have him in our city for this Halloween Party. He will be giving an exclusive Street Jazz and Heels Dance Workshop to a limited amount of dancers, where they will be able to learn, have fun and, live an ultimate experience.
When: Friday October 28th, 2016
Where: Millennium Dance Complex
Space is very limited. Hurry up and register as soon as possible. This is going to sell out! Halloween costumes encouraged!
Haunted Hotel FRI, OCT 14 8:00 PM
Sheraton Dallas Hotel, Dallas
Texas Chainsaw Massacre BBQ is now open! Read more here.