Dallas Pride is just a weeks away and it's time to start planning for a hotel, what events you will attend, and how you will get around the city. Here is a list of some of the events surrounding the weekend that thousands come to celebrate Pride in the streets of Oaklawn.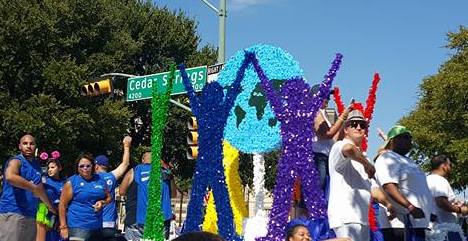 Friday, September 16, 2016 @ 8:00 pm Dallas Red Foundation's Red Party
Billboard #1 Dance Artist and former Pussycat Doll, J Sutta, will be the featured entertainer for this year's event, performing some of her and the Pussycat Doll's hit singles for Red Party Attendees. Priced at $49 per person, this fundraiser features DJ Press Play and DJ Vega, a special performance by rising live vocalist drag star, Gloria Devine, and complimentary cocktails by Stoli Vodka throughout the evening.
6500 Cedar Springs Rd (inside an event and wedding venue called sixty five hundred)
Friday, September 16, 2016 @ 8:00 pm
BJS NXS Absolut Pride Kick-Off Party
3215 N Fitzhugh Ave (21+ Dancer bar)
$5 Absolut All Night
SCORE PARTY (Dallas Purple Party) Fri, Sep 16, 2016 – 9:00P – 2:00A
DJ ALYSON CALAGNA from Miami spins at the Dallas Eagle at 5740 Maple Avenue
COST: 21+ Only / $5 Suggested Donation
Saturday, Sept. 17. 10 AM Park Opens for Gay Day at Six Flags
Dallas Voice is once again sponsoring "Gay Day at Six Flags" during Dallas' annual Pride parade weekend on Saturday. Tickets at the gate that day will be $51.99 each. But you can order online and get the special Gay Day discounted price of only $22.99 each, ploys a $5 processing fee.
POOL PARTY Event (Dallas Purple Party) Sat, Sep 17, 2016 – 2:00P – 9:00P
SISU Uptown Resort at 2508 Maple Avenue
COST: 21+ Only / $19.99+ Online / $40 Door
SATURDAY September 17 (9pm to 2am) Pride Dance with DJ Mark DeMarko
18 and Up Dance Party at Marty's LIVE
4207 Maple Ave
COST: $10 Advance / $20 for under 21
Saturday, September 17, 2016 at 9:30 PM – 1:00 AM
LUX|nightlife returns with a cocktail party for 2016 Pride weekend in a new posh new space: Komali.
Hosted by Paul Hollowell, from Logo's Finding Prince Charming.
Complimentary valet provided. Chic attire encouraged. RSVP for guaranteed entry. $10 and 21+.
Komali – 4152 Cole Ave, Dallas, TX 75204
Up to 5 Free Lyft Rides in Dallas up to $50 | One Free $10 Uber Ride.
Sunday, Sept. 18, 2016 – 2:00 pm HEINEKEN ALAN ROSS TEXAS FREEDOM PARADE presented by T-MOBILE
Let's hope since T-Mobile is sponsoring the event our phones will have service! This is a family event open to anyone of all ages and it is free. Find a good spot and enjoy the massive parade. See security post below.
SUN, SEP 18 AT 12:00 PM ilume Pride Pavilion
Basically $20 – $50 to enjoy the Parade where it is not as crowded with elevated, shaded VIP areas.
Beginning at noon on the day of the 2016 Alan Ross Texas Freedom Pride Parade, join the management of ilume, and your friends at Impulse Group Dallas, in the exclusive ilume Pride Pavilion (located on Cedar Springs Road in the car park directly off the parade route). FREE on-site HIV testing.
Enjoy music from DJ PressPlay, with a performance by RuPaul's Drag Race superstar Kennedy Davenport. Hosted by CoCo De'Ball and FiFi DeBois of New York City. Location: ilume – 4123 Cedar Springs Road, Dallas, TX 75219
Sunday, Sept. 18, 2016 – Noon-7:00 pm Miller Lite Festival in The Park with Billboard chart topping Real Housewife Erika Jayne performing
Reverchon Park (Maple Ave. at Turtle Creek Blvd.)
Keep in mind there is a NEW Festival Bag Policy (see below).
This is one of the places you will find the crowd walking to following the parade. The admission is $10.
Tea Dance – Purple Party Event Sun, Sep 18, 2016 – 4:00P – 10:00P
18+ / Save 50% Off Door ($30) if you buy in advance. Party will be held on The Patio at Station 4 (S4) with DJ JOE GAUTHREAUX from NYC plus DJ BENSON WILDER from Dallas
Security at Dallas Pride 2016
To ensure a safe and fun Dallas Pride the organization recommends that you not bring glass containers, backpacks, coolers, or weapons. This year they will only allow clear bags into the Festival at the Park. Unattended items (bags, coolers, etc.) will be seized. You can expect security to be tighter this year following the tragedy in Orlando especially with the help of Mark Cuban and his generous donation to the City of Dallas Police Department to keep Oaklawn Safe. Read more here about the threats to the LGBTQ community following the Pulse Orlando tragedy. Because everyone is aware of these threats and the muggings and crimes in Oaklawn following last years pride parade you can bet security will be at it's all time high. Remember to not walk alone after dark and park in a safe area. Take Uber and Lyft if possible.
Update: Make sure to sign-up here for 2017 Events.