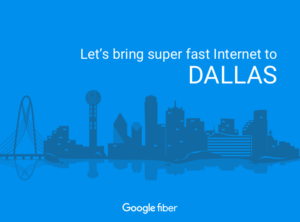 Opened up my email today to find a great surprise. That Google is exploring bringing the fastest speeds of fiber to the Dallas area. They just want us to spread the word and see what kind of response they get. Let's show them that we want it badly.
Exploring bringing Fiber to Dallas
We wanted you to be among the first to hear the news. Today we announced we're exploring bringing Fiber to Dallas.





We'll be working closely with your city in the coming months to understand local requirements and challenges—from roads and infrastructure to permits and utility paths. All to make sure we can build a new network. We'll be sure to share updates on our progress.




Have friends and neighbors who'd like to learn more about Fiber? Share this graphic below to spread the word.