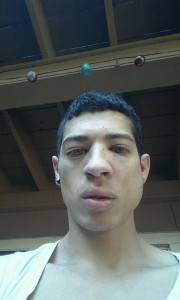 While most of the news lately have been about gay attacks in the Oaklawn area there are also attacks going on outside of the gayborhood. In this case a gay guy was at a straight strip club called XTC in Dallas where he got beat up and had a seizure. This is heartbreaking and we hope that "Korey" makes it out of this without long term damage and is able to make sure justice is served and his attackers pay. These photos are heartbreaking and we hope we can get the word out about this!
"Get that faggot out of here" was one of the gay slurs yelled out at the victim during the attack. Dallas police are currently investigating this attack. There were up to five men who were involved in attacking "Korey".
This is from the post:
"So we went out Friday night 4/1/16 and decided to go to a strip club called XTC in Dallas. We were there for about 30 minutes when a man slapped his chest and told him to leave. My friend Korey told him that he did not want any problems and that we would leave, but to please not put his hands on him again. When Korey told the man that, the man pushed korey and started hitting him. I started yelling asking for help and nobody would listen. 3 other men decided they wanted to join and beat him up as well.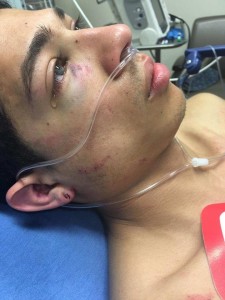 The cops on duty that night refused to do a police report. The officers threatened to send korey to jail if he did not leave. So we left. He was taken to the hospital due to a seizure and was told that he had alot of head trauma, a broken nose, a fractured jaw. And a couple of abrasions on his shoulder. All of this happened because he is gay. He is currently taking a lot of different medications and has to see 2 specialist. Isn't this discrimination? What can he do?
It's sad they were out celebrating a friends birthday and he got attacked and the Cops turned their heads. No police reports. This seems to be a case of bullying, abuse, and discrimination as one post on Facebook claimed and it's not right and justice should be done!
This happens to many times where the police tell a victim that was attacked to leave the scene or they will be arrested. The person who assaulted this guy should be arrested.
UPDATE June 16, 2016: Dallas Mixed Martial Arts fighter Ivan "J.P." Cole, 25, died Saturday after shooting himself while "playing" Russian roulette in his North Dallas apartment. He also worked at XTC Cabaret and was the employee who was accused of gay bashing and allegedly initiated an incident in which Cory Weddington was punched and kicked. The gay person attacked was only 5'4″.