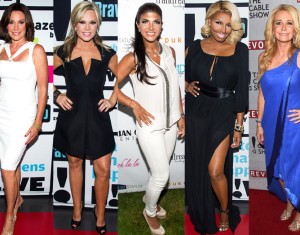 The great skyline of Dallas has been missing out on the reality shows since A-List Dallas and TV shows such as GCB. GCB being one of the best shows that is non-reality and of course the soap opera 'Dallas'. Now the rumors have finally been confirmed that Bravo will air the Real Housewives of Dallas on Monday, April 11 at 10 p.m. on Bravo. The show will star Cary Deuber, Tiffany Hendra, Stephanie Hollman, LeeAnne Locken, Brandi Redmond and their friend Marie Reyes along with the with big egos, big hats and even bigger attitude you find in Big D.
Get to know the Ladies
Cary Deuber is an East Coast girl from Connecticut before spending her childhood in Ohio and making her way to Texas. A certified registered nurse's first assistant, Cary has gone on medical mission trips in third world countries. She lives and works in Dallas with her plastic surgeon husband Dr. Mark Deuber and maintains her own aesthetic injectable practice. She's also a mom to a baby daughter and step-mom to two kids.
Tiffany Hendra, a veteran actress, host and model, moved back to Texas to be closer to her family and to reconnect with best friend LeeAnne Locken. She's been married to Australian rocker Aaron for 12 years and Bravo notes she has a "troubling past" from her time in the limelight.

LeeAnne Locken, a former Miss USA Pageant competitor, has had several parts in TV and movies and now leads efforts for several charitable organizations in Dallas.
Stephanie Hollman comes from Oklahoma as "the girl next door," with two boys. According to Bravo, for Stephanie to make her own money, her husband, Travis, writes up a list of chores for her to do while he's away on business.
You can't have a Dallas show without a former Cowboys Cheerleader. This is where Brandi Redmond comes in. She is married to her high-school sweetheart Bryan and is the full-time mom to two young girls. Her husband is away on business, so Brandi focuses a lot on charity work and spends time with BFF Stephanie. Marie Reyes is an RN who owns and operates SkinSpaMED.
Preview News:
In the announcement they claim that the Dallas offering "will certainly confirm that everything — including the drama — is bigger in Texas." The cast has not yet been confirmed. The rumors have been all over the internet with US Weekly running an item last week that asked if "Is Dallas the Next Real Housewives City? Exciting New Details!" and E! had the same thing.
It could actually be the previously announced "Ladies of Dallas," which filmed over the spring. Andy Cohen also teased that there could be a new Housewives series when he stopped by the Sirius XM show Reality Checked With Amy Phillips, and said there could be a new city "sooner than you think." Dallas joins The Real Housewives of Atlanta, The Real Housewives of Orange County, The Real Housewives of New Jersey, The Real Housewives of Beverly Hills and The Real Housewives of New York City. International versions airing on Bravo include The Real Housewives of Melbourne and The Real Housewives of Cheshire. Will the Real Housewives of Dallas be able to join the ranks of long-running Real Housewives shows?