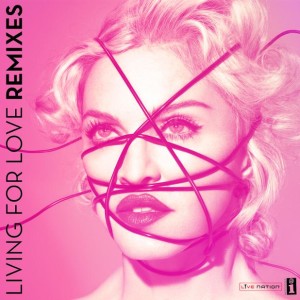 Well we could call it Friday the 13th weekend, Valentines Day Weekend, or Mardi Gras Weekend. It's quite exciting for a February weekend that would normally be pretty lame. Let's all get out and enjoy some drinks before the cold front moves through next week and it gets in the 20's.
Here is a list of the hottest events in town this weekend:
Friday, Feb 13
Flirt Night at S4 – by FUSE Dallas starting at 9pm. Come find a date and stock up on condoms and lube from Resource Center.
Friday Password Night for Station 4 – The password is "CARNIVALE" to get in free for 21 and up. 18 and up still pays a cover.
"50 Shades of Gay": Speed Dating Mixer for Men – Fundraiser for LGBTQ Teen Organization at Randy Club Cherry's at 9pm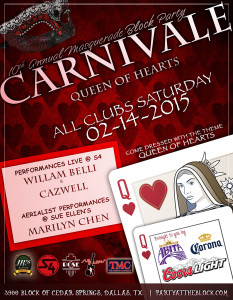 Saturday, Feb 14 (Valentines Day)
Cupid's Undie Run – 2 PM-4 PM
Red Hot Singles Mix & Mingle: Benefiting Dallas Red Foundation – ES Collection Dallas across from JRs on Cedar Springs featuring complimentary Stoli Vodka Cocktails, complimentary Beer & Wine, 20% of Proceeds of ES Underwear Sold Benefiting Dallas Red Foundation, $5 Suggested Donation to Dallas Red Foundation, Hot ES Underwear Models from 7p to 9p
Cazwell – Live at Station 4 1130pm
Carnivale X (S4 and Sue Ellens) – Special Guest Willam Belli at Station 4 in Dallas and Guest Marylin Chen the award winning and stunning aerolist performing at Sue Ellen's.
Paul Van Dyk – Lizard Lounge (Full Access & Disco Donnie present) starts at 9pm til 4am.
Go here for a $20 Free Uber or Lyft Ride this weekend.
Sunday, Feb 15
Annual Wig Party preceding Presidents Day on Monday – So get your best Wig and come out and dance your ass off at The Round-Up Saloon and Dance Hall 8pm – 2am.
Next Weekend:
Coming Friday, February 27th is Atlantic Recording Artist KATY TIZ Performing Live her Hit Singles "The Big Bang" & "Whistle (While You Work It)" at Station 4.
Past Events
Thursday, Feb 12
Rent A Cowboy @8pm – is a fund raiser for R.E.B.A. (The Round-Up Employees Benevolent Association) – Volunteers help with the fund raiser by dancing with you.. for a $1.00 a dance. We will also have some drawings for prizes.
Miss C.E.B.A. Sweetheart – Rose Room @10:30pm at S4.
Remix Release Party for Madonna's Rebel Heart will also be in the Rose Room Thursday night (tonight).
College Night at S4 (downstairs) – DJ SnoWhite (Mary White) and DJ ATG (Alex Kalenberg) will be spinning all night and NO COVER between 9pm-10pm for all ages including 18 and up.