W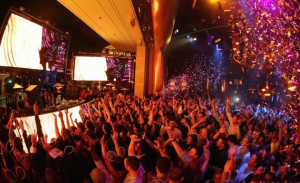 hile we may have a great nightlife scene here in Big D we do not expect to top the Las Vegas or Miami numbers. Four years in a row XS has topped Nightclub & Bar magazine's Top 100 although it has the former spot of Studio 54 at the MGM Hakkasan on its tail. The megaclub at Encore, which regularly features DJs such as Skrillex, Kaskade, Diplo and David Guetta, saw a reported $103-$105 million come in from clubbers and VIPs in 2014 which is about $10 million more than it grossed in 2013.
Hakkasan landed at No. 2 which is the Vegas home of dance giants Calvin Harris, Hardwell and Tiësto bringing in $100-$103 million. Millions down the list we get to LEVU Dallas which tops the Dallas nightlife list but #13 on the national scale with up to $25 Million made in 2014. Avenu Lounge at #2, Plush #3, Thrive #4, and Luxx at #7. The gay friendly Sisu Uptown known for pool side events such as the Purple Party got #6 on the Dallas list. The Round-up Saloon scored #85 but in the TOP 5 in Dallas and #1 for a gay bar/club on the list in Dallas. We should also mention that Landmark Bar & Kitchen made #35 on the national list out of Ft. Worth (do not consider this a nightclub).
Last year, Five North Texas nightspots made the 2014 Nightclub & Bar Top 100 which were Plush #28, Levu #41 and Thrive #53 in downtown Dallas, Avenu Lounge #56 in Uptown and Billy Bob's Texas #49 in Fort Worth. It looks like Plush moved down below Levu and Thrive is Thriving. Avenu also must be the Venue as they are going up the list as well. Congrats to Roundup for being so high on the national list!
The list is always Las Vegas-heavy as the world's premier clubs are in sin city. The winners will be celebrated at the Nightclub & Bar trade show in Las Vegas on March 24 to 26.
13 LEVU Dallas levudallas.com $20 – 25 MM
20 Avenu Lounge avenulounge.com $15 – 20 MM
30 Plush plushdallas.com $10 – 15 MM
34 Thrive Nightclub thrivedallas.com $10 – 15 MM
85 Round-Up Saloon roundupsaloon.com $3 – 5 MM
91 Sisu Uptown sisuuptown.com $3 – 5 MM
99 Luxx Nightclub luxxdallas.com $3 – 5 MM