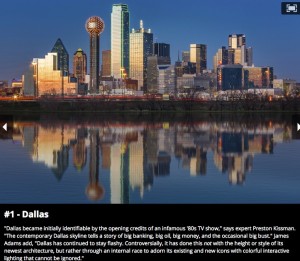 Dallas skyline has been deemed the best in the entire world by USA Today and 10Best. Big D was among 20 nominees for the honor of "Best International Skyline". Other cities included included Chicago, Seattle, Paris, Kuala Lumpur and Rio de Janeiro.
A panel of architects selected the 20 competitive cities and readers were given four weeks to vote. Chicago placed second. Rio de Janeiro third. Toronto and New York rounded out the top five. Dallas got its skyline popularity from the hit series 'Dallas' and in music videos such as Vanilla Ice "Ice Ice Baby". Not saying that Ft. Worth, Houston, and Austin with its beautiful downtown do not compete but Dallas whens over other Texas cities as well. Check out this breathtaking view of the Dallas skyline.
The highly recognizable cityscape – regularly featured in the 1980s hit series 'Dallas' and other more recent reality shows – took a strong majority of votes, despite stiff competition from #2 finisher Chicago.

In recent years, Dallas has added colorful interactive lighting to its skyline, giving it 8 extra hours per day to impress travelers. Nighttime flights into DFW – one of the nation's busiest airports – often give passengers a memorable view of what has become an extravaganza. (An early adapter to colorful nighttime lighting of a downtown was Albuquerque, New Mexico).
Here's the top 10
Dallas
Chicago
Rio de Janeiro
Toronto
New York
Washington, D.C.
St. Louis
Hong Kong
San Francisco
Seattle
"Dallas became initially identifiable by the opening credits of an infamous '80s TV show," expert Preston Kissman told USA Today and 10Best. "The contemporary Dallas skyline tells a story of big banking, big oil, big money, and the occasional big bust."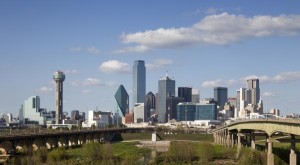 James Adams said: "Dallas has continued to stay flashy. Controversially, it has done this not with the height or style of its newest architecture, but rather through an internal race to adorn its existing and new icons with colorful interactive lighting that cannot be ignored." Thanks to the Onyx hotel and the Bank of America building with the new lighting that took months to complete.
Big Tex recently took top honors as the "Best Quirky Landmark in the USA." The city itself took 7th place for Best City for Shopping. The Dallas Zoo, AT&T Stadium and Southwest Airlines have also been winners in past contests.
Here are the five tallest buildings in Dallas
Bank of America Plaza – 72 floors (we sometimes call it "that beautiful green monster")
Renaissance Tower – 56 floors
Bank One Tower – 60 floors
Chase Tower – 55 floors
Fountain Place – 62 floors
Source: DallasArchitecture.info