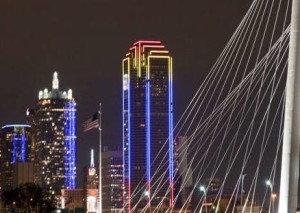 In a recent feature from CNBC titled "Five US tech hubs you probably didn't know about," Dallas ranks in fourth place. The article went on to say that Dallas is heating up as a hotbed for both tech workers and companies.
The current tech boom is not just in the Bay Area, and some unlikely cities are gaining traction as key hubs. San Francisco, New York City and Austin, Texas, are often cited as thriving tech areas there are other areas such as Dallas gaining momentum.

"These are areas that for the most part have a cheap cost of living and are major company hubs," said AJ Smith, a spokeswoman for the financial advice tech start-up SmartAsset.
Every major company and government agency has a growing demand for skilled tech workers making more cities tech hubs. Our great city was ranked as the fourth best city to work in tech, according to SmartAsset's report. Those in the tech industry in Dallas make 73 percent higher wages than the city's average compensation and also account for 4 percent of Dallas's total workforce.
While Dallas is home to some big companies including Texas Instruments and AT&T, the city's start-up scene has also had significant growth, especially since the 2008 recession.
"Dallas was going through an identity crisis before the recession. It was a city that didn't have [a start-up] industry that was at all investable and had no funds to invest in them," Gilani said.
However, what emerged post-recession were three organizations that helped jump-start entrepreneurship in the city. These include The Dallas Entrepreneur Center, the tech accelerator Tech Wildcatters and the accelerator VentureSpur.
About 33 Dallas-based tech companies have been acquired since 2012, including the enterprise cloud company SoftLayer, which was bought by IBM in 2013 for $2 billion, according to data from CB Insights.
And the state of Texas is also slated for a big year of tech IPOs. The state has 22 tech companies in the the IPO pipeline for 2015, according to CB Insights. Some startups already making it big include Ilumi solutions recently featured on Shark Tank with Mark Cuban. The Seattle-based Amazon has its name tied to a lease agreement for 88,615 square feet of space at Two Galleria Tower in North Dallas according to Dallas County lease records.
The initial rumors ball-parked Amazon.com's office space needs at about 100,000 square feet,
What are some of your favorite tech startups in the DFW area?