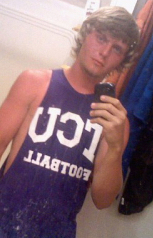 Brice Johnson attacked Arron Keahey and nearly beat him to to death before he bound him with electrical cord and placed him in the trunk of his Ford Fusion in Springtown, Texas, on Sept. 2, 2013. He actually thought he killed him until the 19 year old Brice Johnson arrived at a friend's house and Keahey screamed for help from the trunk. Johnson was sentenced to 15 years in prison but it wasn't counted as a hate crime since he agreed to plead guilty.
They met on a dating site called Meetme.com and traded explicit messages. The straight man lured the gay guy to his home near Fort Worth, Texas. Johnson saved Keahey's number in his phone using the name "F*g Bagg."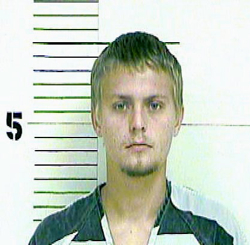 "I invited this guy over, right? At first it was basically, like, a joke that went too far and too wrong," Johnson told family members in recorded jailhouse phone calls.
Brice Johnson
Johnson actually thought he beat Keahey to death and tied his body with electrical cord before tossing him into the trunk of his Ford Fusion. The gay bashing victim spent 10 days in the hospital recovering from skull and facial fractures and a brain injury.
Keahey suffered brain trauma, memory loss and severe trauma as a result of the attack, and has launched a GoFundMe campaign to help cover medical bills and expenses. Below is a statement from his GoFundMe page:
"I was recently lured and ambushed, beaten to almost an inch of my life, after meeting a man on a social app, simply because I am gay. I had to have facial reconstructive surgery, had brain trauma as well as memory loss, which is still affecting me pretty bad, and a lot of emotional backlash. I am constantly dealing with depression and other emotional problems still. In the midst of it all, I am trying to start my life over now. I am having a hard time doing so and am needing help with normal necessity bills and everyday expenses while I rebuild my life and get myself back to life and everything in order money wise. I am also hoping for some help with paying the large amount of medical bills. Any donation to me will be truly appreciated, and I cannot thank you enough for your support.
"Even if you do not have the resources to donate, please share this article and spread the word of what happened," Keahey added. "I truly believe that the more problems like this in this country are talked about, the less it will happen and the closer we will be to a solution."
This is so close to home being in the DFW area and really shocking this man who seems more like a murderer could be out on the streets in less than 15 years.