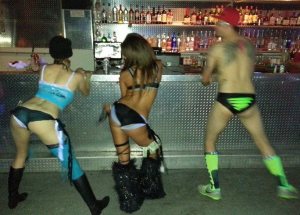 Dallas only has three gay strip clubs why not another one right? We might be competing with Prague when this is all said and done. Dallas will be known as the male stripper capital of the US. The World Famous Tin Room folks opened up a place that pays tribute to the late Marty Hershner which is ran by his brother. They will have sexy boys six nights a week and be the first place to have a lesbian night with sexy girl dancers on Tuesday nights. So the trashy tuesday will be a night out for the lesbianos as well.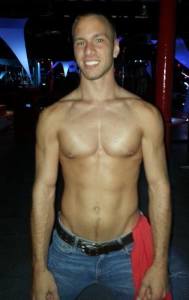 Friday September 12th will be the official grand opening party of Marty's Live in Dallas. Doors open at 5pm. $3 wells and domestic from 5pm to 8pm and then from 10pm to 2am they will have $2 wells and domestic $4 fireball all night long.
The bar had a soft grand opening on August 19th to celebrate what would have been Marty's 35th birthday. "Not a day goes by I don't miss seeing his face. I still call his phone everyday to hear his voice. I've kept his cell phone number active. Life is not the same without him. When he passed he left behind a dream (The World Famous TiN R00M). It's my pleasure and honor to keep it going. My dream has been to open a bar in his honor by naming it after him. I have finally done that. So I am inviting everyone everyone tomorrow night at 10pm to join me at Marty's LIVE !!! At 10pm I am buying a round for everyone who is there to give a birthday toast to my little brother. I love Marty Hershner and miss you soooooo much" -Lonzie Hershner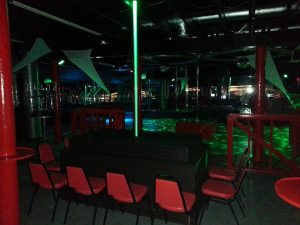 We looked at this spot while it was Exclusive and had hoped to do a dance night at this venue as it had a big dance floor and awesome patio and Dallas needs a new dance club option badly. A dance club being a place where you can go dance with other guys and not have to pay for that dance and let out negative energies to good music. This is an excellent venue and we wish them luck no matter what is in the building.
They recently installed some laser lighting and it looks to be a great place to hang. It's just too bad you can't dance with so much room for it. If you want to dance then check out Station 4 that is 18 and up every night but Saturday.
UPDATE: It does look like they will offer some dance events. Our friends over at the Purple Party Foundation are hosting a Pride T-Dance called Spectrum on Sunday, September 21 at 5pm to 11pm.
Marty's Live is located at 4207 Maple Ave in the gayborhood.