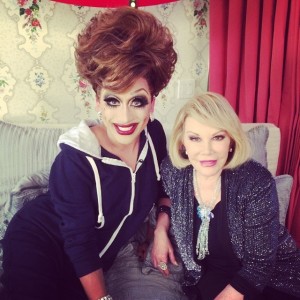 We made a few tweets not too long ago about how Austin was bringing in all the good queens such as Bianca. Austin Pride is also bringing in DJ Hector Fonseca and we wondered why Dallas Pride could not book any of these top notch acts. Well Station 4 has stepped up to the plate and taking the DFW Challenge. Bianca Del Rio is coming to Station 4 on November 2nd and we are so excited. I imagine she will be performing in the downstairs because I am not sure if the Rose Room can handle a celebrity like this… I mean who else gets to lay in bed with Joan Rivers and win Ru Paul's Drag Race! More details to come on this exciting event.
UPDATE: Bianca is also scheduled to appear at the Brick on Saturday, January 10th. So you have two chances to see the hilarious drag queen live.
S4 is also hosting a blacklight party for Pride Weekend on Friday, September 19. Learn more about Pride events here. A World Series Talent show will be held September 24 on a Wednesday, a day they are not normally open. They have also announced a college night coming soon. Perhaps on a Wednesday when there is nothing else to do in Dallas?
The 6th Annual Red Party on September 19th has RuPaul's other huge diva. Pop artist Adore Delano and a DJ from NYC Patrick Kuzara will be performing but tickets are an astounding $80 at the door but all proceeds to go charity.