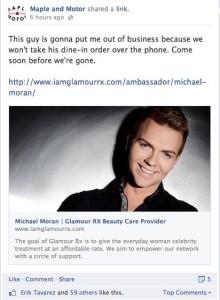 A small burger and beer joint located just off Maple near the gay strip in Oaklawn called out a customer on Facebook today. They posted this about local makeover expert Michael Moran saying "This guy is gonna put me out of business because we won't take his dine-in order over the phone. Come soon before we're gone."
Maple and Motor has over 7,400 fans on Facebook who could have seen the post. The post has actually back-lashed based on the comments in the thread and the page is deleting people who are not commenting properly. Some people are commenting on other threads saying they commented and were blocked from the page.
The burger joint is not backing down. They replied to comments on the thread "I promise you this little thing will not hurt my business at all." One of the most popular comments read "It doesn't matter if the customer or maple and motor was right or wrong. A business does not publicly post customers information online bad mouthing them. Why doesn't anyone understand this fact. Wake up. It's business not high school."
What do you think? Should a business be able to call a customer out on their Facebook page?