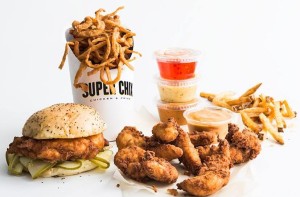 Super Chix located at 612 W. Park Row in Arlington opened as one of the only test stores of its kind in the country. They are clearly a play off of Chick-fil-A and offer similar chicken sandwiches with pickles that you can pick, chicken strips and cole slaw type sides.  They now are planning a second location in North Dallas near Preston and Beltline not far from the new Whole Foods.
Arlington is a great place for this test stores because they have 3,000 Arlington High School students just across the street and 34,000 UTA Mavericks less than a mile away. Yum! Brands who also owns Taco Bell and KFC is the parent company of this new fast food brand but there is no mention on their website.
They instead base the chain on three food-obsessed friends who believe chicken could and should be better with the perfect pickle(s) and the ingredients have no MSG, HFCS or phosphates. It's too bad they could not use cage-free chickens like Chipotle which was once owned by McDonald's before it turned into one of the highest valued fast food stocks ever.

Super Chix serves Idaho potatoes cut thin and crispy with the skin left on and fried in 100% refined peanut oil. You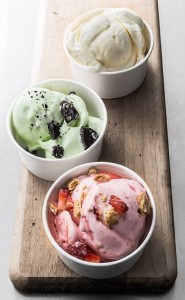 may not be getting your novelty waffle fry but you get 3 different seasonings to toss on them including regular salt, sweet and salty, and rosemary black pepper.
Customers are also raving about the sauces to dip the chicken tenders into. "Holy crap. The chicken is good, but the everything else is amazing. The sauces are all delicious (the siracha sweet & sour omg), the French fries are unbeatable, and the custard…. Oh, the custard. Everything here is spot on if you don't mind a little wait. For the love of god bring this place to Denton, like yesterday."
Maybe all of this explains why Chick-Fil-A is all the sudden being nicer to the gays? They know that huge competition is on the way from YUM! Brands that is MSG free unlike the Chick-Fil-A sandwich.