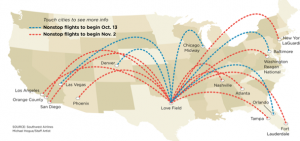 A new day has arrived especially for those of us who live in the Oaklawn area to be closer to an airport that can fly us without much hassle and layovers. Southwest now is known for an airline that has to stop in towns like Midland or Tyler to get to a popular city such as Las Vegas. This will end soon and there may be more air traffic to deal with in the sky and possibly more noise and street traffic but it will be worth it.
Southwest Airlines will fly nonstop to 15 new cities out of Dallas Love Field when the Wright amendment expires on Oct. 13 and airlines will be allowed nonstop service from Dallas to any U.S. airport. Actually, five will be offered from Oct. 13, and the other 10 will be added on Nov. 2. The flights don't go on sale until May when Southwest will post the schedules.
The new nonstop cities include Atlanta, New York LaGuardia, Baltimore, Orange County, Calif.
Chicago Midway, Orlando, Denver, Phoenix, Fort Lauderdale, San Diego, Las Vegas, Tampa, Los Angeles, Washington Reagan National, and Nashville, TN.

Update:
Southwest Airlines has just made its position more dominant at Dallas Love Field, adding two more gates after striking a deal with United Airlines. Subleasing both of United's gates will give Southwest a total of 18 of the airport's 20 gates. The deal was approved by the US DOT and the City of Dallas. The Dallas-based carrier will utilize the gates to add service to nine cities, including Memphis, Milwaukee, and Seattle which will begin in April with Southwest saying the other new routes "will be announced soon."
They're new out of Dallas, but have been part of the Southwest Airlines system for some time.
"We're celebrating today an antiquated and anachronistic law, but also the future," Dallas Mayor Mike Rawlings said, referring to both the elimination of the limits and the rebuilt airport, including 20 new gates.
It will be great for Dallas residents to enjoy the new freedom "and not having to go through Amarillo to go where they want to go," Rawling said, while adding he liked Amarillo.
Some comments from Gary Kelly after the formal ceremonies:
* He expects the initial schedule post-Wright to be about 140 departures a day. That's nearly 20 more than today.
* If you presume 10 departures per gate, Southwest's 16 gates at Dallas Love Field would support about 160 departures a day. Kelly indicated that that's where Southwest is headed, depending on how the Love Field traffic develops.
* All 16 cities now served nonstop out of Love Field will retain service. But some will have fewer frequencies a day. On the other hand, Kelly said, the new longer-haul flights out of Dallas will give those current cities more connecting opportunities.
* Kelly definitely thinks Southwest's entry into those nonstop markets will lower the fares in a number of them.
* He repeated Southwest's desire for the two Love Field gates that American Airlines must surrender as part of a U.S. Department of Justice lawsuit settlement. His argument: Southwest can't enter the Dallas/Fort Worth International Airport market (without surrendering Love Field gates), and therefore Love Field is the only place in North Texas where it can grow.
* While Southwest named the cities Monday, it won't release the actual schedule until May. That includes how many flights to how many cities.
* The first five airports to get the flights, on Oct. 13, are Baltimore, Denver, Las Vegas, Orlando and Chicago Midway. Those include Southwest's top four cities in daily departures (Chicago Midway, 244; Las Vegas, 219; Baltimore, 210; and Denver, 170) and No. 10 Orlando, which has 101 departures.