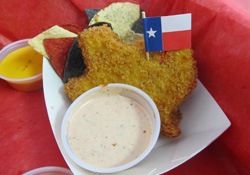 The State Fair of Texas opens Friday with this year's theme "The One and Only." The attraction everyone will be talking about this year will be the unveiling of the new Big Tex Friday afternoon at 2pm. This event will not be open to the public but you will be able to see him waving shortly after.
The admission to the State Fair of Texas seems to be a bit steep costing more than a move or most other fairs but luckily we found you some discounts for every day of the week. General admission is $17, Seniors ages 60 and over $13, Children age 3 up to 48″ in height $13, Children age 2 and under – Free.
Kroger
Advance purchase General Admission tickets are $16.00. A Season Pass is $34.95. They may be purchased at the check-out counter or at the service desk. The season pass includes a one-day companion ticket (good Monday-Friday) and one Cinemark ticket. Also, any Wednesday you can bring in 3 cans of food for area food banks and get in for only $3.
Everyday McDonald's offers $3 off General Admission with one of their State Fair coupons (available on tray liner or bag stuffer) any day of the Fair. A $6 child ticket (with purchase of general admission) coupon is also distributed by McDonald's.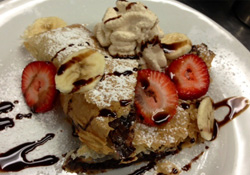 Opening Day, Sept. 27 – Bring a full 20 oz. bottle of Dasani water (or any Coca-Cola product) for donation to the North Texas Food Bank containers at Fair admission gates and get in for $6 per (per donation) per person.
Dr Pepper: $5 Tuesdays you can bring an empty Dr Pepper can and enter for $5. Most rides (excluding the Thrillway and the Texas Star) are 6 coupons. Also, Dr Pepper $8 after 5 – Any day after 5 p.m. Bring an empty Dr Pepper can and enter for $8 after 5 p.m.
Coke $6 Thursday–Bring an empty 20 oz. bottle of a Coca-Cola product and enter the Fair for $6 admission. Also, on Thursdays you can present a Cinemark Movie Theater ticket stub and receive free admission on any Thursday.
Dickies Day is Thursday, Oct. 3 where anyone wearing a Dickies logo clothing item will receive a free voucher for admission to the Fair on same day. Senior Citizens 60 years and older get in to the State Fair FREE each Thursday.
KISS FM Fridays for $12 when you download and print a coupon from the KISS-FM website.
You can find out more on the BigTex.com website regarding hours of operation and information such as bags. You can bring in a bag or cooler to the fair which is a good thing if you don't want to pay an outrageous price for a water. Keep in mind that security this year will be heightened so don't try to go around drinking if you are a minor.