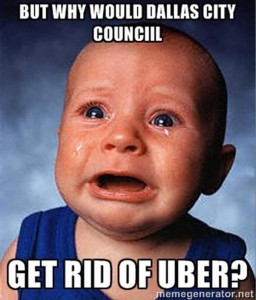 We all know how disgusting cabs are and how they are always trying to rip us off.  Finally a service comes out that is not only more transparent of what we are paying per ride but could significantly reduce our rides if we were to use UberX.  We are saddened to hear today that the Dallas City Council is scheduled to vote to stop Uber from taking rides to make the cabbies happy.  The Yellow Cab monopoly is calling Uber rides nothing more than gypsy rides that are skirting regulation.  They are doing everything they can to stop us from our Freedom to be able to pull out our smartphones and with a few touches order a ride.
This app has saved many of my friends from DUI's because Taxi's are hard to deal with when you are drinking and they normally rip you off and take advantage of you.  The fact that The Dallas City Council is even considering banning Uber really shows we have got to take action now before it is too late.
Dallas is unique right now because we are the only major Texas city to offer Uber.  It makes us look classier and the techies to come for conferences love it.  As we strive to become one of the leading tech cities in the world we cannot let old industry monopolies such as Yellow Cab hold us back.
If you are not already signed up for the Uber App you may do so here!
Call to Action! Contact Your Dallas City Council member here by sending them all an email here: http://www.ci.dallas.tx.us/forms/mcc/MCC_Mail_Form.htm