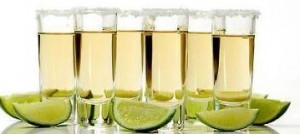 July 24 is National Tequila Day here in the DFW area and around the US. Local restaurants are celebrating with drink deals and specials. Sigel's liquor store is slashing the prices of its tequila inventory, most notably the $2,499.99 bottle of Dos Lunas Grand Reserve, which you can get for a steal at just $1,999.99. Don't everyone go running for this special but there are some other ones you may enjoy for dinner and happy hour time!

From 7 to 9 p.m. at its Uptown Dallas location, Urban Taco will have a tequila specialist on hand to walk patrons through the restaurant's selection of 40 different tequilas. Drink specials include a Milagro Tequila flight for $9 and their Hibiscus Margarita, Acapulqueña Margarita and Ginger Jalapeño Margarita for only $5.
El Fenix is reducing the price of their house margarita, frozen or on the rocks, to just $3.50 to celebrate National Tequila Day. Abuelo's is also getting in on the National Tequila Day wagon and reducing their premium margaritas to $5.95.