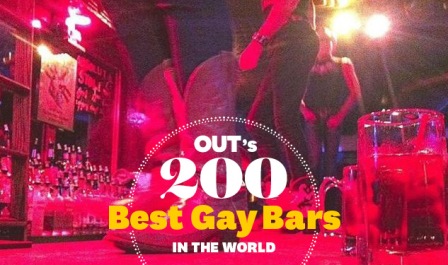 Congrats go out to the Tin Room and the Roundup Saloon for making the Top 200 list in Out Magazine this week. This is quite an accomplishment because they are ranked up there with Heaven in London and RAiDD in Paris and of course the Abbey in West Hollywood. They compiled the list of 200 bars across the world based on friends input, on foot, and other data but failed to mention their favorite pick (could it be this one?).

Dallas is fortunate to have the Tin Room and Roundup because they are great places to get away from the average hangout and neither are bitchy places to hang out. We all need that gay place to turn to and let it all out with some cocktails in hand! Now the Tin Room can definitely use that "World Famous" in their ads and the Roundup has had Lady Gaga perform not once but twice but… probably again. The Tin Room also offers DJ Ronnie Bruno on Sunday nights and offers a fun dancefloor even if you are not a gogo dancer.
If we were to rank the top clubs and bars in Dallas I would have to put Tin Room, Roundup, and Station 4 in the top three. So the article is right on track, We were surprised they did not mention Rain in Austin. Rain just opened up Castro with an afterhours. They also mentioned another great bar in our region named the Boom in Oklahoma City.