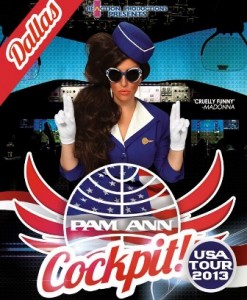 Not to be confused with Pan An the TV show or the airlines that once flew alongside TWA and was the beginning of the modernized…well whatever.. Pam Ann alter-ego of Australian performance artist Caroline Reid comes to Dallas this weekend and is performing at the Majestic Theatre (at 8pm). This is a show that is guaranteed to be adult and not for those under 18 and we love it that way! She is sassy as quoted here "Not since Dame Edna have we seen such a sassy performer"- Elle Magazine.
An established icon in LGBT culture, Reid's brilliance shines as the flight-attendant-from-hell PAM ANN; a wicked mixture of vamp, camp and sky high insanity. Ms Reid takes flights of fancy to new heights with her "air mattress" take off of the legendary airline Pan Am.
Flying the friendly skies has never been funnier as Pam skewers the vagaries of air travel, lambasting the quirks of international air carriers and their uniformed underlings. If you can ever stop laughing, you may also realize the true fear of flying! Having firmly established an international cult following with her indelible (and indelicate) kamikaze caricature, capacity crowds throughout the USA, Europe, Latin America and Australia are often on standby to be seated to savor this salaciously brazen, brassy broad. Her in-flight service provides you with belly aching laughs.
It's no wonder that comparisons to DAME EDNA, LILY TOMLIN and TRACEY ULLMAN abound. PAM ANN has earned her wings, appearing with the likes of CHER on her final arena tour at Royal Albert Hall (telecast on BBC) and with sold out runs in London's West End. Her latest departure COCKPIT officially crashes the boundaries of good taste and decorum. Heed, indeed the message from the captain?"fasten your seat belts?it's going to be a bumpy night".
Pam Ann could do for stewardesses what Lilly Tomlin's Ernestine did for telephone operators.WWD Women's Wear Daily NY
Pam Ann's antics as she traverses the globe are brought to glamorous life by Reid with ribald, sexy and witty humour.The Daily Telegraph
A brand of laughs once favored by such women as Mae West and Phyllis Diller.The Daily Telegraph.