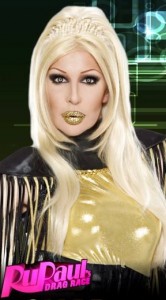 It is getting to be that time of year again, one of my favorite weekends in Dallas, it is coming up on the Purple Party Weekend. Get ready to shake your tails and watch some hot gogo boys, and also get treated to a performance by Chad Michaels who is one of the best Cher impersonators in the country (hard to type that out when you are in the land of Wayne Smith) and she also won RuPaul's Drag Race All Stars! This year the party rages on from April 26-April 28th! Here is the line up for all of the events!
Friday April 26th
This year the host hotel is the Warwick Melrose and you can stop by there between 1-7pm and pick up passes. From there it is time to head on over to Station 4 for the opening party that will go from 9:30pm till 4:00am! The DJ will be DJ Gustavo Scorpio from Brazil and DJ Paul McElroy from Dallas! Chad Michaels will also be performing there in the Rose Room along with the regular Rose Room Cast!
The S4 / Chad Michaels Opening Party is included if you buy a weekend pass, or it is $20 at the door!
Saturday April 27th
Get ready to soak up some sun on Saturday because it is the Rise Pool Party from 1-7pm at Sisu Uptown Resort. Your DJs for this event will be Justin Ryan from NYC, and Adam Metts from Dallas. This event is included in the weekend pass or it will be $25 at the door.
The Purple Party Main Event this year is at the same location as last year, South Side Music Hall. If you were there last year you know that it was a great venue and tons of fun! This year the main event will be going from 10pm-6am and the DJs will be DJ Ana Paul from Brazil, DJ Danny Verde from Italy, along with DJ Ronnie Bruno and DJ Brandon Moses from Dallas! This event is included in the weekend pass or is $65 online or $85 at the door!
Sunday April 28th
If you are ready to get up early and get to partying, on Sunday they have the Tea Dance on the Lizard Lounge Terrace going from 1-7pm. The DJs for this event will be DJ Phil B from San Francisco, DJ Aqualight, DJ Mike James and DJ Paul Kraft from Dallas! This event is $25 at the door or included in the pass!
The closing party for the event will be held at Plush Nightclub and will go from 7pm till 3am! The DJs for this event will be DJ Paulo from LA and DJ Bryan Konrad from Austin! This party is also in a weekend pass or can be bought at the door for $40.
The Purple Party is a big fundraiser for our community and it is a great time. If you can make it out, it is a don't miss event. For more information or to buy tickets, visit PurpleFoundation.org