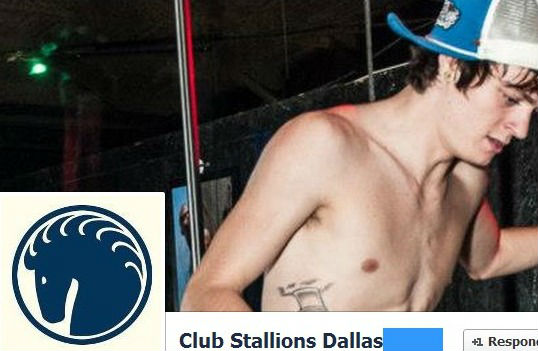 It looks like Dallas has landed another fun hole… literally. Club Stallions may have taken the place of the mysterious Phallus we always heard about but never dared to show. What are you to expect of this new establishment or hole-in\-the-wall or club? Well below are some of the rules they listed. Seems like a lot of rules if you ask me…
The flyer says college students and service industry employees are free until 10pm, party starts at 9pm featuring new dancers and several of your known favorites. The party only seems to be on Tuesday nights though but from what we can tell it seems to be the new Phallus and basically a nude strip club so if you want to see your BJ's or Tin room dancers bare it all you might want to come here and see who shows up. I would go just to get away from people having cell phones all around.
If you are searching for a gay nude strip club in Dallas you may have found your Swingin' Richards or Secrets of DC but you have to drive over to Harry Hines to find it and it is only open on a Tuesday night. It seems the venue is BYOB but they seem to be supplying all the cock. The address for this joint is for 11311 Harry Hines Blvd. #203 in Dallas.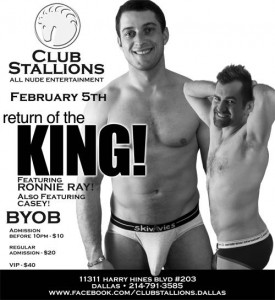 -I am at least 18 years of age with valid identification
-I am not an agent of any branch of the United States Military
-I am not an agent of the United States government
-I am not an attorney for the United States government or Department of Defense, Including all branches of the United States Military or any local, state, or federal law enforcement agencies
-I am not a reporter, writer, or agent for any news or media organization
-I am not affiliated with any class of law enforcement ageny, be it federal, state or local
-NO drugs of any kind are allowed on the premises. All members are expected to conduct themselves in an adult manner
-Any disruptive behavior will result in removal from the club & immediate cancellation of membership
-Do not participate with other members who do not invite you to participate
-The purpose of Club Stallions is discretion
-No firearms, sharp objects, or other weapons are allowed on premises
-Cameras, camcorders, & recording devices are prohibited
-No large bags of any kind allowed in the facility
-Club Stallions will not be held responsible for any lost or stolen items
-Club Stallions will not be held responsible or liable for any bodily injury
-Management reserves the right to refuse service to anyone
-Club Stallions reserves the right to add or modify rules & conditions of membership
-This social club exists to support homosexual, bi-sexual, & bi-curious males who share the ideals of the swinger lifestyle & the right of private assembly
-Shoes must be worn at all times on the premises
-NO refunds!
-NO mobile phones or devices allowed in the club!
If you wish to call to see if they are open (214) 791-3585.