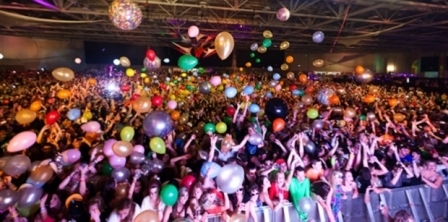 What's going on for New Years in Dallas to put an end to 2012 and bring in the year of 2013? We have lots of good stuff lined up for you to celebrate 2013 starting at the Roundup where they are hosting a ball you cannot miss and an electronic music event for the big day.
The Roundup Masquerade Ball tickets are $12 in Advance and $20 at the door. You can purchase them from your bartender at Roundup. You will get a meal and party favors including Dinner, Breakfast, party favors, champagne and a cash balloon drop.
Looking for a more family friendly event with fireworks? Then your answer may be the free event going on downtown with WFAA ABC-affiliate channel 8 called Big D NYE. The Stream Energy Fireworks Spectacular is one of the most fantastic New Year's Eve displays in the county. The music for this year's soundtrack is being developed by DJ Ro Parrish and show starts at midnight, when the Stream Energy Countdown Clock hits zero. This year's celebration will ignite pyrotechnics from four different buildings, as brilliant colors splash in the night skies above Victory Park. This is something fun to do from around 9pm until Midnight but then head out to the bars.
If you want to party like a rock star or should I say an electro magnetic star with lots of money then seek out this EDM party going on. This party going on in Fair Park in Dallas (beware of burning Big Tex) is headlined by Avicii and Tiesto. Avicii has been one of the hottest dj's of 2012. Lights All Night, the city's annual New Year's Eve EDM bacchanal, is expanding to three nights for its fifth installment, which sports a beefed-up lineup topped by Tiësto, Avicii, Bassnectar, Diplo, Zeds Dead and Zedd. The big event kicks off at Fair Park on December 29 and stretches into the wee hours of 2013. Early bird discounted tickets are already gone, so get in while ya can at the $159.99 to $205 range. Or get all fancy with it and nab an $875 Platinum VIP.