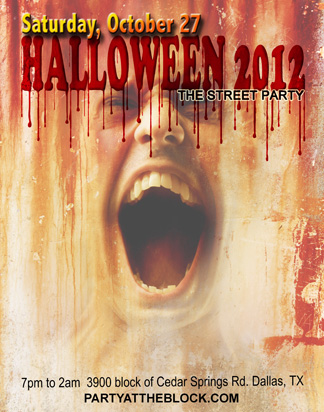 Do you have your costumes ready yet for the block party in Oaklawn?
The Official Oaklawn Halloween Block party will take place this year the weekend ahead of Halloween week since it falls on a weekday this year. The street party will take place on Saturday, October 27, 2012. Hours of the street party will be from 7pm to 2am in the 3900 block of Cedar Springs. The event features the Costume Promenade, with live commentary from Edna Jean Robinson.

Also, music, food, beer and other refreshments will be offered at seven service booths. Be sure to catch the Live DJ and featured Rose Room performances in the back lot! Admission to the street party is free. All ages welcome at the street party, but beer sales limited to 21+ only. The event area will be fenced. In accordance with state law, no personal liquor may be taken into the permitted area. Coolers are not permitted, and bags may be screened. Please be kind to our neighbors! Cruisin' the Crossroads suspended for this event.
Following the block party on Saturday the various clubs will host their own costume contests on Halloween which is of course Wednesday October 31.
Costume contests at all 4 Caven clubs at 11p; winners go to midnight (Check Roundup for their times)
finals at S4 to compete for cash and prize packages from our
sponsors, including a weekend stay at Palomar Hotel in a Luxury Suite with breakfast for two each day, a $500 voucher from the Globus Family of Vacation products, plus cash and much more!