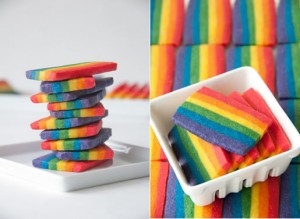 We have noticed some posts for Gay Pride pre-parties and thought what a fun snack this would be. Not as healthy as a fruit tray or a salsa and baked chip snack but hey we plan on drinking vodka and soda water anyway way so we could be able to let loose with some rainbow cookies. Pride weekend is this weekend in Dallas and we are uber excited so let's get to cooking…
The Rainbow cookie recipe yields about 40 cookies:
2 large egg
2/3 cup plus 2 tablespoon granulated sugar (5-1/2 ounces)
2 teaspoons lemon zest, from 1 lemon, freshly grated
2-1/2 sticks (10 ounces) unsalted butter, softened
1/2 teaspoon table salt
1 teaspoon vanilla extract
3 cups unbleached all-purpose flour (15 ounces)
1 teaspoon large egg white , lightly beaten
food coloring: red, orange, yellow, green, blue, purple
Directions
1. Place eggs in small saucepan, cover with 1 inch water, and bring to boil over high heat. Remove pan from heat, cover, and let sit 10 minutes. Meanwhile, fill small bowl with ice water. Using slotted spoon, transfer eggs to ice water and let stand 5 minutes. Crack eggs and peel shell. Separate yolks from white; discard white. Press yolks through fine-mesh strainer into small bowl.
2. Add sugar and lemon zest to a bowl. Use finger tips and rub the mixture until in resemble pale yellow wet sand.
3. In bowl of stand mixer fitted with paddle attachment, beat butter, sugar mixture, salt, and cooked egg yolk on medium speed until light and fluffy, about 4 minutes, scraping down sides of bowl and beater with rubber spatula. Turn mixer to low, add vanilla, and mix until incorporated, about 30 seconds. Stop mixer; add flour and mix on low speed until just combined, about 1 minute. Using rubber spatula, press dough into cohesive mass.
4. Divide dough in six equal portions; add food coloring to each piece and mix to achieve desire color. Roll each portion, on a piece of plastic wrap, into a long strip about 3 x 11 inches, 1/4 inch thick.Wrap each strip with the plastic wrap and chill until firm, about an hour.
5. Adjust oven racks to upper-middle and lower-middle positions and heat oven to 350 degrees. Line 2 rimmed baking sheets with parchment paper. Place purple dough on a cutting board and brush with egg white. Place blue dough on top of purple and brush with egg white. Repeat with remaining dough in the order of green, yellow, orange and red (see photos). Using chef's knife, trim edges and slice dough into 1/4-inch-thick rectangles. Place cookies 1 inch apart on baking sheets. (If dough is too soft when slicing, chill it for an additional 20-30 minutes.)
6. Bake cookies for 14-16 minutes, rotating baking sheets front to back and top to bottom halfway through baking. Cool cookies on baking sheet 5 minutes; using thin metal spatula, transfer cookies to wire rack and cool to room temperature.