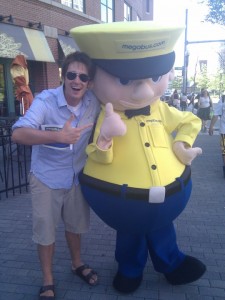 We announced a few weeks ago that you could travel from DFW to Houston for up to $1. Now the deal is even more fabulous if you have friends in Oklahoma. You can now travel between OKC and Dallas for as little as $1. Megabus, an express bus service, started a new route last week that runs three times a day from Oklahoma City to Dallas and back, with a stop in Norman. The bus route ends at 710 Davis St. in Grand Prairie, Texas. The Oklahoma City to Dallas route takes three hours and 35 minutes and the Norman to Dallas leg is two hours, 50 minutes. That seems faster than I can drive!

Fares start at $1 each way if you book far enough in advance but begin to rise as the bus fills up, said Dale Moser, president and chief operating officer of Coach USA the parent of Megabus. The most extreme procrastinator could pay as much as $20 or $25 on this route. If you are in OKC the bus will pick up and drop off Oklahoma City passengers in the parking lot at the northwest corner of N Hudson Avenue and NW 5 Street. The Norman stop is the Lloyd Noble Center parking lot, 2900 N Jenkins.
The buses are brand-new, 81-seat double-decker coaches and include free Wi-Fi, electrical outlets, reclining seats, a restroom and air conditioning. Megabus has sold 6,000 tickets for trips along the new route since seats became available online. The Megabus route is part of the service's expansion into Texas and the southern United States. The company heard a "huge outcry" for service in Oklahoma by monitoring "significant social network chatter." Megabus launched in 2006 in Chicago and is based in New Jersey.