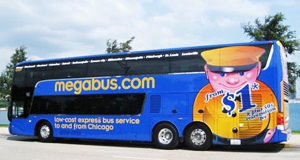 If you do not mind riding on a brand new bus with Wifi these prices are unbelievable. The prices we have seen are either FREE or for up to $1. This is a promotion to draw awareness to this new way of getting around in Texas. People that are sick of being frisked down at the airport and do not want to wait on a train or sit in an old Greyhound bus may want to check this out. This is exciting if you ask me! Megabus.com is offering with a 10,000-seat giveaway to celebrate its new routes in Texas.

Travel to/from Dallas to the following cities June 19-25 to nab this deal:
Austin, Texas
Houston, Texas
Little Rock, Ark.
Memphis, Tenn.
Norman, Okla.
San Antonio, Texas
When the free seats on each route are gone, all other tickets will start at $1 aboard buses that boast free Wi-Fi, climate control, reclining seats, restrooms and power outlets.
Note: There is a $0.50 per transaction booking fee.
Book by June 18. Top 20 deal – sells out quickly.
"I took the megabus from Baltimore to NYC in December and it's pretty comfy. Yeh, it has wifi and power outlets for your phone to charge, but the wifi is wicked slow. Even still… Definitely worth it!" claims a Facebook user on the topic.