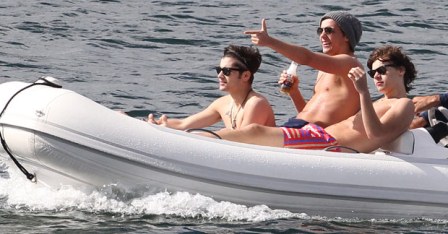 How about some Harry or Niall, Zayn, Liam or Louis? A new sensation that is taking the country gaining as fast as NSYNC, Backstreet Boys, The Beatles, or even NKOTB. One Direction is coming to Dallas to tell you are Beautiful and Keep you Up all Night with their hot voices. They are coming to Dallas long before their 2013 tour starts up so see them before they become even bigger around the World.
The UK Boy band will appear at the Gexa Energy Pavilion for a hot summer concert outdoors Saturday, June 23, 2012. The day before pride in most major cities. Dallas does not have our pride until September so party away with the UK favorites or shall I say favourites. If you are purchasing pre sale tickets you can do so now with the code of 1d2013. You best get them now because they have already sold out Madison Square Garden in New York City.
Strangely enough One Direction's website Onedirectionmusic.com does not list Dallas, TX for their June 23rd date but you can find them here at 1directiontour.com. This will get you the best seats in the house and no having to wait in line behind zillions of tween girls. VIP Passes are also available to meet the UK boys for a few months rent but you will have the time of your life right?