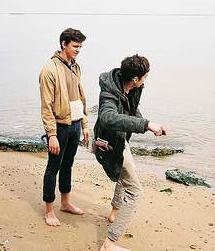 Congratulations, you've decided to marry your true love! It is wonderful that same-sex marriages are beginning to be legally recognized in places around the world. Unfortunately for Texans looking to tie the knot, the Lone Star State is not one of those places. Okay, we know it's not legal yet, but that doesn't mean you can't celebrate your love and have that special moment with your partner. Texas may not be the most same-sex friendly state in the nation, but there is still plenty of support and resources out there. Whether you want to call it a commitment ceremony, a holy union, a rite of blessing or just a plain old wedding, with a little planning and research, your day will be a positive and memorable event.
Discuss any potential challenges with your partner
Before you make your big announcement, sit down with your partner and talk about issue that may come up. Of course the hope is that everyone will be supportive, but sometimes that isn't the reality. Consider any road bumps that might come up. If your grandmother has just never understood, or you have that horrible Aunt Linda who is bound to say something awful, it's best to plan for those uncomfortable moments. If your parents have been less than supportive of your relationship, you may consider sharing your big news with a more encouraging friend or family member first. It's no secret that Texas is rife with folks that would prefer that same-sex couples refrain from having any kind of ceremony, so it wouldn't be surprising to find that there are one or two in your own family, or the family of your spouse-to-be.

Make a commitment to each other
Legal or not, your marriage to your partner signifies a deep and personal commitment to each other. Sit down and talk about your hopes and dreams. Consider your financial future and decide on the big questions like whether you will have a joint checking account, or maybe just one account. Having children is an increasingly viable option for same-sex couples living in Texas, so talk about if you want to consider going down the rewarding road of parenthood. Do the paperwork. Remember to add your partner as your beneficiary to your life insurance, and as your next of kin. You may even want to write up a commitment, including things like hospital visitation and get it officially notarized. Though it may not be a legally binding agreement, in a crisis situation, this kind of documentation is nothing but helpful.
Surround yourself with support
Forget the haters. Don't spend one second worrying about how people will react to the choices you make for your big day. You know who is on your side, and now is the time to gather them together to celebrate your upcoming nuptials. Your biggest supporters will also likely be your biggest contributors to your wedding planning. Choose your wedding party, and be clear about their roles. Get together with your friends and share with them the vision for your day. You know they will do everything they can to make every moment perfect.
Pick the perfect officiant
There are plenty of same-sex friendly officiants in Texas, it is just a matter of finding them. If you want a religious ceremony, check out liberal houses of worship in your area. Some officiants will offer pre-marriage counseling as well – something that any couple should consider. As an alternative, choose a friend or family member to conduct your ceremony. If you are dead set on an ordained minister, no sweat – it is simple to become ordained online, and there are plenty of online churches that offer this service. Even in Texas, online ordination is recognized.
Though it isn't legal yet, there are plenty of resources for same-sex couples looking to get married in Texas. A quick internet search will even turn up providers that specialize in same-sex ceremonies. With a little planning and a lot of love, you can carry out your big day – Texas style!