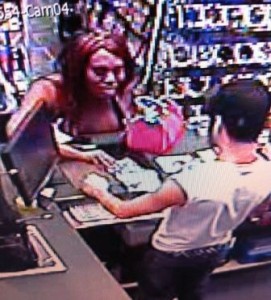 It seems there is a queen on the run after recently stealing Krystal Summers credit card and this star from " Ticked-Off Trannies With Knives" is not going to have any of it. Facebook has been shaking up today with cam photos of someone using the credit card.
On Monday Krystal Summers was doing a show with Lilayana Desanta who had asked to be in the show but according to Facebook posts she then "broke into her purse and stole credit cards."  She was then found on camera using the cards from a local store.  There currently is a group setup on Facebook and a mountain of posts about it on Krystal's page if you have seen her you may want to hide yo' wallet or purse.
"I hate the fact the girls in our industry have the reputation of being thieves and dishonest because nothing could be further from the truth! Most of us ARE honest and so I put this girl on blast for every girl in my industry that's been stolen from." – Krystal Summers on Facebook wanting to make it clear that not everyone should be pinned with the reputation of a thief that it does not happen all that often.
We hear you girl.  The gay community has a problem just like any when it comes to people stealing.  Even though we are like a big family sometimes people take advantage of this and try to steal stuff when you are not looking sometimes.  What are your thoughts?