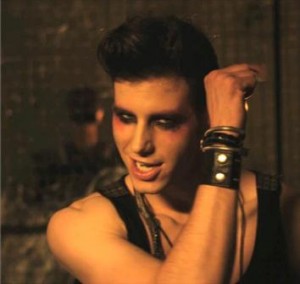 Recently Adam Tyler performed at the Rose Room inside Station 4 in Dallas. We had a chance to catch a few pics although not nearly enough of this talented gaga-ish boy. It was not really a packed house for his performace but he still warmed things up on a Thursday night at the Rose Room which is normally reserved for the Amateur Drag contest and that can be interesting enough in itself.  Click below to see pics of Adam Tyler Performing at the Rose Room Dallas and his new video.

Adam Tyler likes to use cutting-edge imagery and mix a gaga type goth look in his fashion and dancing. We hope to see more of him soon! The debut album, "Shattered Ice", is out now and his new video for "Like A Drug," is getting heavy airplay on Youtube.
Check out these stats on Stickam for Adam Tyler he has quite the following for video chat. #26 Most Viewed this week – Music
#48 Most Viewed this week out of all the channels on stickam. He was the #8 Most Viewed this month for music and all channels. The #50 Most Viewed all time for music. If that tells you something it says he is building some momentum and the next time we see him we may be waiting in line.