The last few years many of you may have noticed zombies running around town coming from a thing called "Zombie Walk". Well this year it is back again, and going to be bigger than ever. Not only are portions of Main Street shut down in Deep Ellum with over 30 bands playing, they are also going for a world record for largest zombie walk. Last year there were over 4,000 people, this year they are trying to get 8,000! The event runs on Saturday October 15, 2011 from noon and until 8pm, and like most great street festivals in Dallas, the party continues on into the night for those of you interested!  You can find the Zombie Walk on Main Street between Hall and Malcolm X
In addition to Zombie Walk, the Deep Ellum outdoor market will be going on the same day, so there will be no shortage of things to do. Here are just a few of the bands that will be on for the Zombie Walk: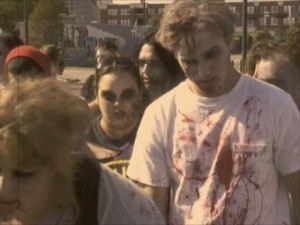 Dez & the Gypsy Hideout
Ivory Jean
The Black & Blues
Dirty Blonde Delaney
Old Red Martian
The Child Forgives and Creates
Stew!
Hawk & Dove
Hello Lover
Tonight, Tonight!