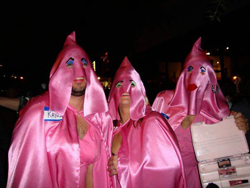 Last year the Oaklawn Halloween Block Party was the largest ever, and hopefully this year it will be even bigger. With 12,000 people in attendance in 2010 it is one of the largest Halloween block parties in the Dallas / Fort Worth metroplex. This event is free of charge, and is one of my personal favorites. Each year I get asked if this is a family event, the answer is kinda. I personally would not take children to it, but there are always the inevitable kids there with their parents being spectators. Some of the costumes are very risque, and the liquor is flowing so I would advise against it. Pets would also probably be allowed, but I wouldn't take them either as there are just too many people.
People also ask about bringing their own alcohol to the Oaklawn Halloween Block Party, and while I have done it in years past, it is considered illegal.
The Oaklawn Halloween Block Party details:
When: Saturday October 29th 2011 from 7pm to 2am
Where: Cedar Springs / Throckmorton
Attire: Dress up and be creative!!