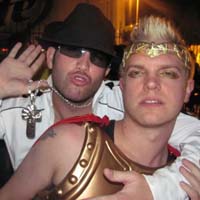 <-PLEASE SHARE! It is getting to be that time again, we are just 3 days away from the epic Oaklawn Halloween Block Party of 2010, which is happening on Saturday October 30st, 2010! This is always one of my favorite events in the Dallas Gaybourhood, and you can usually expect to find 1,000's of people in attendance. For those of you who haven't been before, think of it as being the size of Gay Pride, but all Halloween themed with some of the most epic costumes you will ever see. I have received many questions about the block party, so I thought I would take the time to answer them here.
First, this event is open to all ages. You must be 21 or older to drink or to get into the clubs, but the streets will be closed off and packed as they are with Gay Pride, so you can have plenty of fun out on the street! I started going to this event when I was 20, and every year it has been packed with people of all ages. Another question that I am getting is the cost. The street event is absolutely free! You can expect to pay cover at S4, but other than that, most of the other clubs will also be free to enter. I usually do a little of both, sometimes I will go into a club for a bit, but most of the time I will spend on the street, as you can drink out there as well!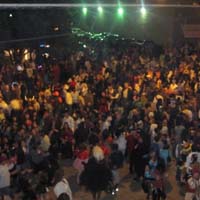 If you like competing in Halloween Costume contests, for that you will have to wait until Sunday October 31st, 2010 which is Halloween night. There you will be able to find costume contests at Round Up Saloon, TMC, S4, Sue Ellen's and JRs. For the Caven Clubs (TMC, S4, Sue Ellen's and JR's) each of those bars will be having a contest, and all of the winners will go over to S4 to compete in the finale where they will be giving away over $5,000 in prizes!
If you have been to this party before, please leave a comment below and let us know all about it! Look forward to seeing everyone this year, and can't wait to post some pictures of the event!